A Refreshing New Look for a Refreshing Way of Life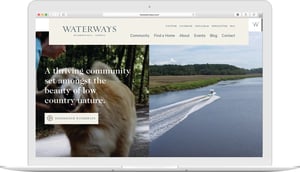 We're so excited to share our refreshed website which we crafted to reflect all the things we love about our special community. Waterways exists to create a connection between a busy modern lifestyle and a love of the natural world. Our brand reflects the best of both: an elevated experience that supports a sophisticated point-of-view, along with a dedication to connecting our residents to the timeless beauty of the Georgia coast. Waterways feels like a hidden secret that's existed here for hundreds of years. The truth is, it's fresh and new and filled to the brim with opportunity for residents.
Say hello to our new website by visiting www.livewaterways.com.
We're Making Waves
With several updates underway, it seems like everyone is talking about Waterways! See what's coming soon to our community.
Marina Village
Over the last several months, Waterways has made significant progress at Marina Village, which will soon be the central hub of the community. Planned to feature a marina with direct access to the Intracoastal Waterway and the Atlantic Ocean, a drystack storage facility, wetslips, an impressive clubhouse, and more, Marina Village is sure to enhance the water-centric lifestyle that is already so vibrant here at Waterways.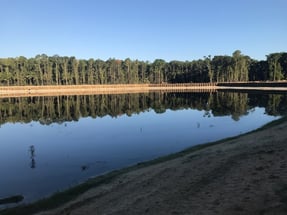 So, what's the latest? 800 feet of wooden bulkhead was recently installed around Marina Lagoon, and this massive new section of lagoon is filling in with water nicely. We've also paved Scenic Parkway, the magnificent road with glistening water views that will guide our future visitors and residents to Marina Village. As every month passes, we get closer to the day when Marina Village will be open for business, and we can't wait!
Lakewood
We are proud to announce that homesites in our newest neighborhood, Lakewood, have been selling at a record pace and home construction will begin this month! This cottage-style neighborhood was just released this past summer, and people looking for a relaxed, low country lifestyle are loving the concept for this new neighborhood within Waterways. Lakewood features access to our freshwater lake, ample greenspaces, and a soon-to-be-built waterfront gathering space.
Hello, Neighbor!
It's no secret that our pets love it here at Waterways—that's why we were voted Best Pet Friendly Community of the Coastal Empire by Savannah Morning News! This month, we were excited to chat with the Hatfields, residents of Waterways and owners of The Pet Spa, a new spa and grooming boutique in Richmond Hill.
Amanda and Rob Hatfield, their daughter Cimone, and their four-legged family member, Koira, have been residents of Waterways since June 2017 after relocating from Florida. Rob is a United States Marine and works at Fort Stewart as a civilian. Amanda has been in the pet grooming industry for the past seventeen years and realized the need to start a new pet spa in Richmond Hill. This new business recently opened its doors and offers next-level grooming experiences and amenities for pets, including organic products and a jet-like feature for massaging during a bath.
Koira, the Hatfield's ten-year-old Husky/Malamute mix is the face of The Pet Spa (and their #1 customer!) Being an anxious dog owner, the Hatfields know the importance of offering a unique experience for both pets and pet owners. The Pet Spa's skilled, certified groomers are trained to work with "special needs" pets and continue their grooming education by attending tradeshows and classes, allowing the spa to offer a relaxing, pleasant experience for its furry customers. Services such as nail filing, teeth brushing and facials are offered.
The Pet Spa offers a 10% discount to Waterways residents, as well as 15% off to military, first responders and teachers. Visit www.thepetspallc.com to learn more or call 912.445.5288 to schedule an appointment for your pet.
Looking for something to do this weekend?
Join The Pet Spa for their Canine Carnival and Ribbon Cutting Ceremony this Saturday, November 3 at 11 a.m. at 10747 Ford Avenue Suite #9 in Richmond Hill, GA.
The Canine Carnival will feature a doggie kissing booth, pet stencils, pup-cake walk, bobbin' for hot dogs, find the treat bucket game and a doggie baked goods sale. Tickets for these booths will benefit One Love Animal Rescue, and dogs will be available for adoption at the event.
What's Happening this Month
With a full calendar of events, there's always something going on at Waterways. Here, our residents enjoy monthly events such as:
Community Wide Yard Sale!
TOMORROW! Please join us for our Community Wide Yard Sale at Waterways. On Saturday, November 3, from 9 a.m. to 1 p.m., residents will be selling a variety of goods throughout the community. Mention the yard sale when you drive up to our main gate for a pass to enter!
Community Swap Party for National Recycling Week
Did you know that swapping one suitcase of clothes saves enough energy to run a TV non-stop for 1.7 years? Swapping books or clothing keeps these organic materials from the landfill. In landfills, they produce methane, a greenhouse gas with the global warming capacity 20 times stronger than CO2.
On Saturday, November 17, residents will get together and swap items they no longer use such as clothes, toys, sports equipment and books. Even small efforts like this can help us to live a more sustainable lifestyle!
Let's Be Friends!
Want to stay in the loop about the latest Waterways updates? Make sure to follow us on Facebook and Instagram!